Protect your valuable products, materials and equipment.
Regardless of your storage demands, we've got you covered!
Multiple Configurations to Select From
Our steel containers are available for rent in 20′ and 40′ lengths. Also available are 20′ climate controlled and 40' combination (storage / climate controlled) units.
Accessories for Any Job
Improve your storage utilization by organizing your containers with shelving and pipe rack options.
On Time Delivery and Pick-Up
We strive to provide prompt on time ground delivery and pick-up to meet your scheduled deadlines. Our full-size tractor and trailer can deliver two 20' or one 40' container each trip. A smaller wrecker type flatbed truck is available for sites with limited space for maneuvering.
Learn here how a container is delivered and think about where you need the door end of the container placed.
No Hidden Fees
No Fuel Surcharges
No Property Tax Fees
Rest assured, we don't nickel and dime our customers. The quote you receive is what you can expect to pay.
4 Valuable Tips for Renting a Storage Container in New Orleans, Baton Rouge, Biloxi
1.    Come Up With a Realistic Timeframe
The first thing you should do is accurately estimate the amount of time you anticipate needing the container. In general, you'll get better rates from your supplier if you sign a long-term rental contract. They may even offer you a rent-to-purchase option on their storage containers if you decide to buy the unit you've been renting. Once you know how long you will need the container, you can now move onto the next phase of securing the right storage container.
2.    Find Out if You Need a Permit
When renting a portable storage container, sometimes it is necessary to secure a permit from your city, town or community. Failing to determine this ahead of time can land you in some hot water. You may have to pay a fine if you are found with a storage container on your site without a permit. Those fines can be quite expensive and will add up fast without the proper permit. The requirements involved will depend on your location, but it's a good bet that you will need a temporary use permit.
3.    Ask About the Delivery Time
It takes about a half hour or less to deliver a container. Because drivers like to adhere to a schedule, you should make every effort to be ready for them. Keep in mind that they make multiple deliveries of containers a day, so if one delivery takes more than an hour, the other drop offs will also be delayed. Rescheduling may be necessary. To avoid getting charged an additional hour on-site, be ready for the driver.
4.    Inquire About Site Prep
Making sure the site is prepared and ready for the rental is the next step. Every company varies a bit in their requirements, so it's a good idea to inquire about this beforehand. How much clearance is needed for the truck? Does the ground have to be level and dry? What happens if the truck can't easily access the designated site?
Only after answering all these questions can be you properly prepare for the delivery of a rented storage container.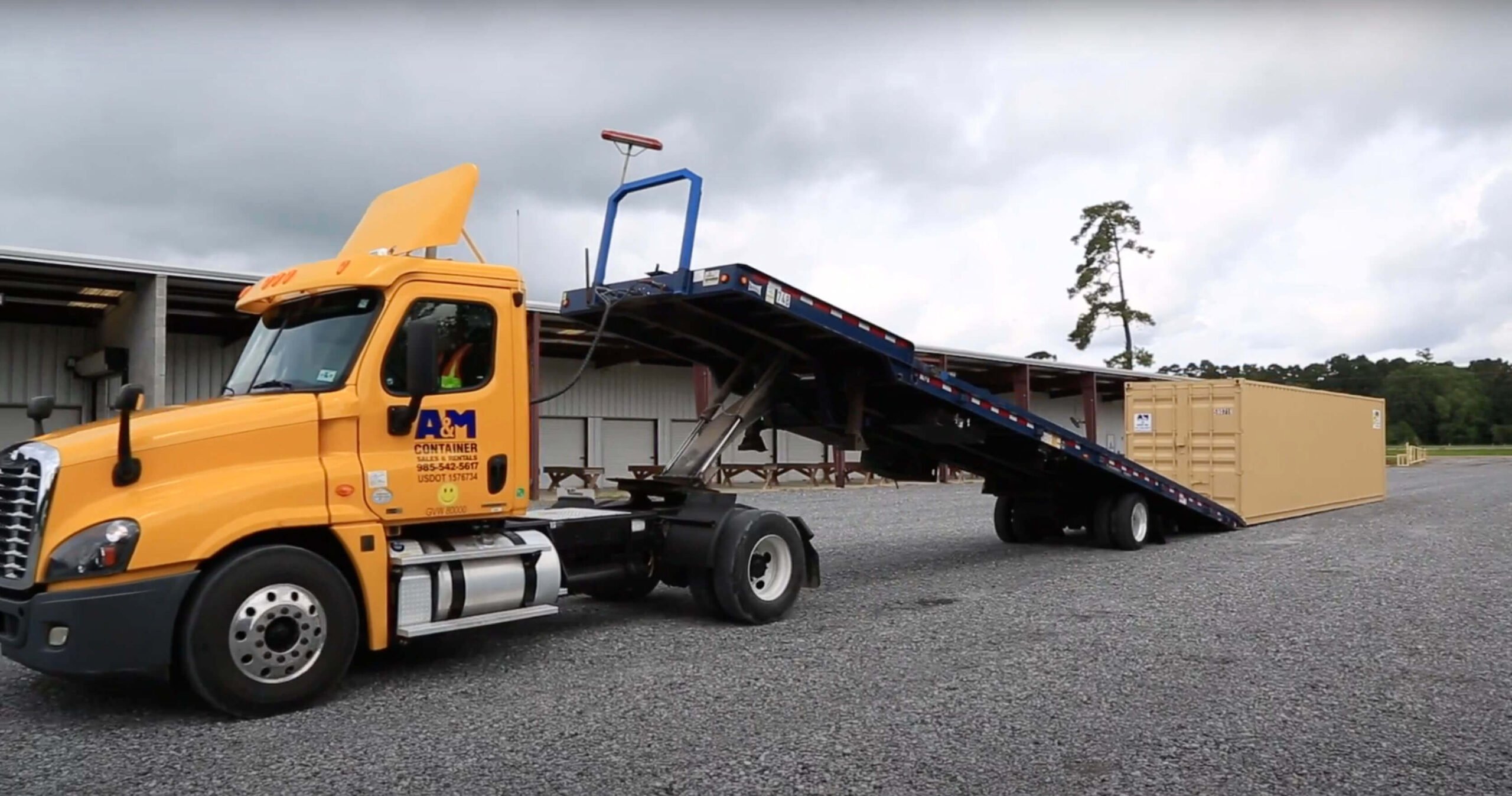 Prompt delivery and pick-up with our specialized tilt bed truck trailers. Trucks are big and heavy so learn more about delivery and pick-up here.
CONVENIENTLY LOCATED
Open Monday thru Friday, we invite you to visit our facility to ensure the container you select meets your requirements.

A&M Container Sales & Rentals
18056 S. I-12 Service Rd.
Ponchatoula, LA 70454
Physical Address:
18056 S. I-12 Servie Road
Ponchatoula, La 70454
Mailing Address:
P.O. Box 8622
Mandeville, La 70470
Monday-Friday 8:00 AM - 4:30 PM