Come and see our huge selection of containers on site! If you can't get away, we'll send pictures to you.
You don't have to buy sight unseen or first off the container stack.
1.

Select Container Size and Condition

Whether for on-site storage, modification or shipping, no matter your application, we have the grade container you are looking for. In addition to the standard container sizes, 20' and 40' long, we also provide some smaller custom-built options.
2.

Pick Your Container

All containers are thoroughly inspected, and when necessary, repaired, to ensure there are no holes, doors are functional and the floor is in good order. All used shipping containers have dings, dents and rust. For customers sensitive to cosmetic rust, we recommend an exterior repaint or a new one trip container.
3.

Accessories & Modifications

We offer a variety of customization options including, but not limited to: windows, personnel and roll up doors, efficient shelving, electrical outlets, lighting, insulation, interior lining, vents, AC and heating for humidity control and lock boxes for extra security.
4.

Delivered -or- Loaded to Your Truck

Our full-size tractor and trailer can deliver two 20' or one 40' container each trip. A smaller wrecker type flatbed truck is available for sites with limited space for maneuvering. Learn here about our delivery process. If you prefer to coordinate your own delivery, we can fork lift load directly to your truck at no charge.
5.

How to Maintain Your Shipping Container in New Orleans, Baton Rouge, Biloxi
1. Put your container on level ground.
This will help to prevent corrosion if puddles of water accumulate under or around the unit. Level ground will also make it easier to open and close the doors, and ensure the unit won't sink unevenly over time. It's a good idea to place your container on railroad ties or concrete blocks to keep them up off the ground.
2. Lubricate the door hinges.
You don't want them to seize up after not being used in a long time. Add grease as needed and on a regular basis to ensure your doors work smoothly.
3. Clean dirt and rust.
This will ensure the container lasts as long as possible with fewer chances of corrosion. Use a simple cleaning agent or some bleach and use a hose to clean off dirt and surface rust. You'll have to be a bit more diligent if you have made any modifications to the containers, as cutting, joining, or stacking them makes maintenance more challenging. This is because dirt, dust, and rust can seep into the joints and metal areas.
4. Keep weight off the roof.
While the corners of containers are very durable, with the ability to have at least seven containers stacked on top, their middles are much weaker. Be sure to clean debris off the roof regularly such as leaves, twigs, standing water and snow.
5. Store only dry goods.
This will prevent condensation. Used containers feature vents for airflow and reduction of condensation. Store dry goods only, and don't open the doors when humid or rainy. Don't store furniture against the walls, as this is where condensation usually forms.
6. Get regular refrigeration unit servicing.
If you have a refrigerated unit, hire a professional to inspect and maintain it regularly. This will help spot problems before they worsen, so you can avoid expensive repairs and downtime. Refrigerated containers, also known as reefers, contain many sensitive mechanical and electrical systems, so hire a technician skilled in this area.
7. Replace worn rubber door seals.
Rubber seals on doors keep moisture out of the unit. These seals only last about 10 years, so replace them if they are looking worn down or brittle. Do the same with weather stripping and caulking.
For terms of sale and accepted forms of payment click here.
Note: We are not responsible for damage to contents occurring after a purchase.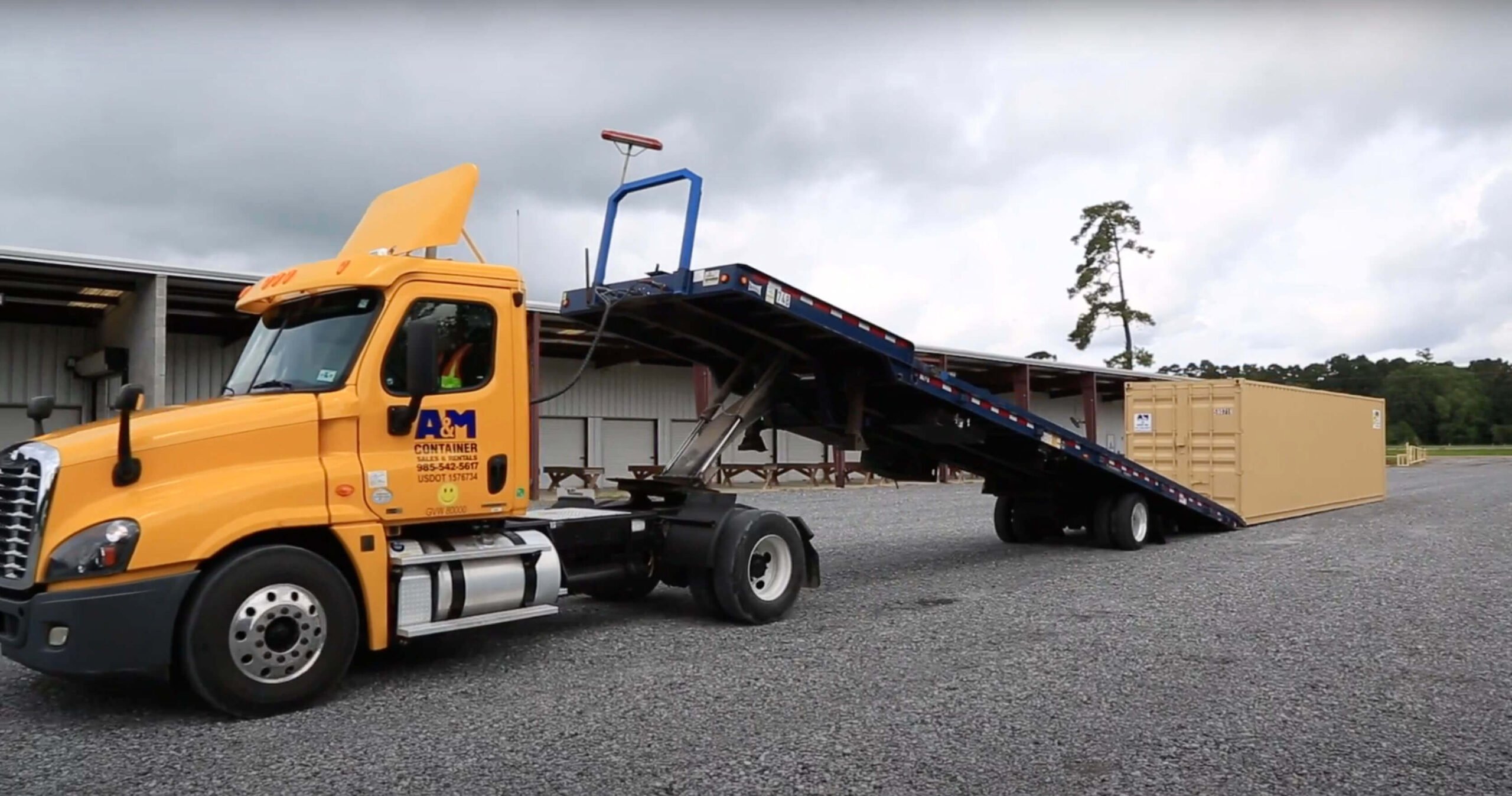 Prompt delivery and pick-up with our specialized tilt bed truck trailers. Trucks are big and heavy so learn more about delivery and pick-up here.
CONVENIENTLY LOCATED
Open Monday thru Friday, we invite you to visit our facility to ensure the container you select meets your requirements.

A&M Container
18056 S. I-12 Service Rd.
Ponchatoula, LA 70454
Physical Address:
18056 S. I-12 Servie Road
Ponchatoula, La 70454
Mailing Address:
P.O. Box 8622
Mandeville, La 70470
Monday-Friday 8:00 AM - 4:30 PM
Need Help Deciding?
If you have an idea for a specialized need that goes beyond storage applications, contact us to learn more about custom container modifications such as windows, doors, shelving, lighting, insulation and humidity control.