Come and see our huge selection of containers on site! If you can't get away, we'll send pictures to you.
You don't have to buy sight unseen or first off the container stack.
1.

Select Container Size and Condition

Whether for on-site storage, modification or shipping, no matter your application, we have the grade container you are looking for. In addition to the standard container sizes, 20' and 40' long, we also provide some smaller custom-built options.
2.

Pick Your Container

All containers are thoroughly inspected, and when necessary, repaired, to ensure there are no holes, doors are functional and the floor is in good order. All used shipping containers have dings, dents and rust. For customers sensitive to cosmetic rust, we recommend an exterior repaint or a new one trip container.
3.

Accessories & Modifications

We offer a variety of customization options including, but not limited to: windows, personnel and roll up doors, efficient shelving, electrical outlets, lighting, insulation, interior lining, vents, AC and heating for humidity control and lock boxes for extra security.
4.

Delivered -or- Loaded to Your Truck

Our full-size tractor and trailer can deliver two 20' or one 40' container each trip. A smaller wrecker type flatbed truck is available for sites with limited space for maneuvering. Learn here about our delivery process. If you prefer to coordinate your own delivery, we can fork lift load directly to your truck at no charge.
For terms of sale and accepted forms of payment click here.
Note: We are not responsible for damage to contents occurring after a purchase.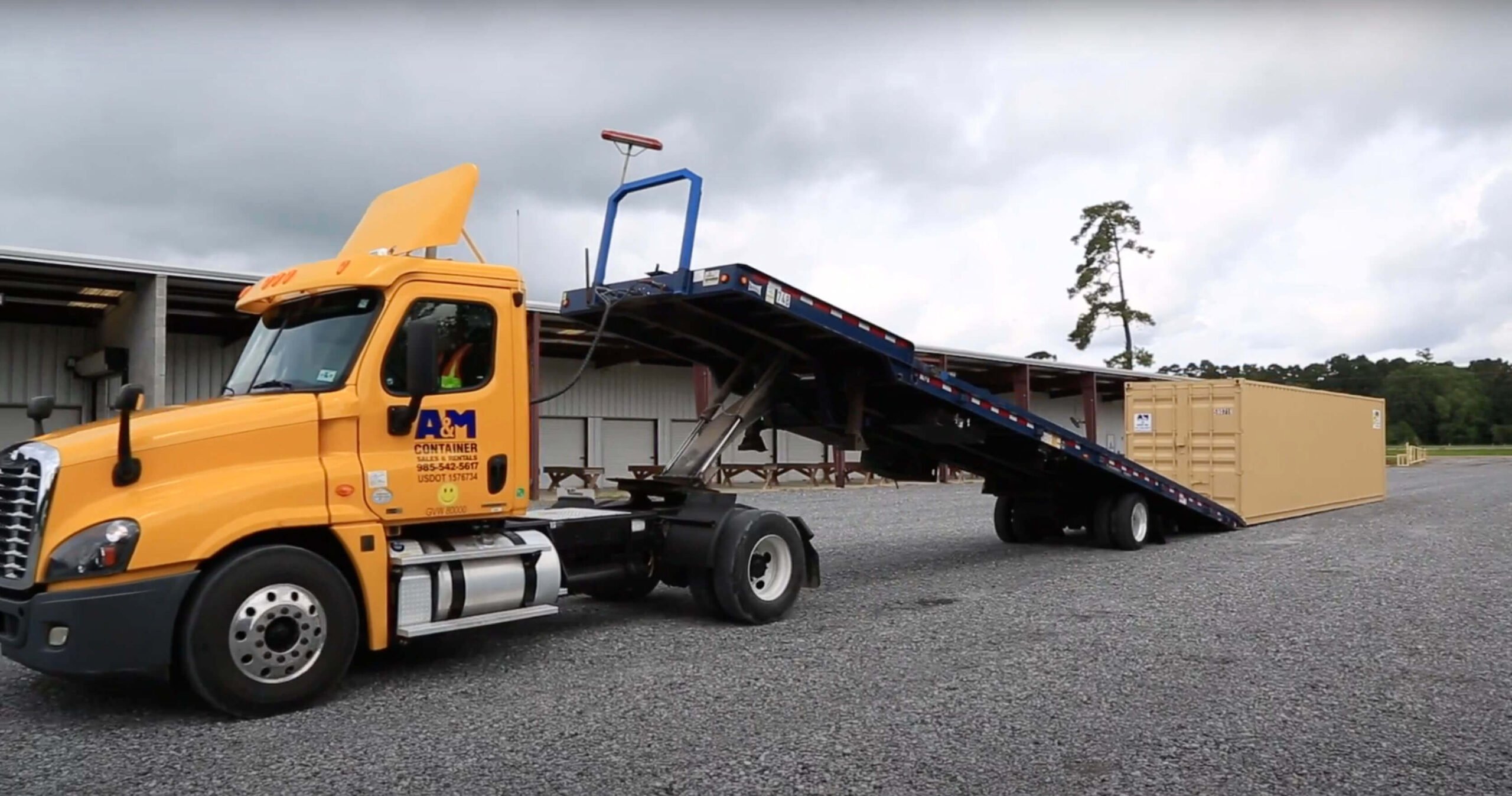 Prompt delivery and pick-up with our specialized tilt bed truck trailers. Trucks are big and heavy so learn more about delivery and pick-up here.
CONVENIENTLY LOCATED
Open Monday thru Friday, we invite you to visit our facility to ensure the container you select meets your requirements.

A&M Container Sales & Rentals
18056 S. I-12 Service Rd.
Ponchatoula, LA 70454
Physical Address:
18056 S. I-12 Servie Road
Ponchatoula, La 70454
Mailing Address:
P.O. Box 8622
Mandeville, La 70470
Monday-Friday 8:00 AM - 4:30 PM
Need Help Deciding?
If you have an idea for a specialized need that goes beyond storage applications, contact us to learn more about custom container modifications such as windows, doors, shelving, lighting, insulation and humidity control.