Reviews
Here at A&M Container, our goal is to ensure your complete satisfaction. Take a look at some of our reviews to see what our customers have to say about us!
" Very nice people to work with! "
" Very professional staff. Promises were made and executed. Delivered as promised. Driver was very good "
" A&M is in a class of its own when it comes to customer service and professionalism. I walked in at 9am Friday and had my container picked out, paid for and delivered by 2pm. The office personnel (Johanna and Lewis) went out of their way to make this sale happen and I couldn't be more appreciative. Buddy their driver ….well this guy was one of the most skilled 18 wheeler drivers I have ever seen. He pulled the truck and trailer through a 12 foot gate with a 40 foot driveway without hitting a thing, and then whipped a 360 around a tree to put my container EXACTLY where I wanted it to go. I deal with commercial truck drivers daily and 99% of them couldn't do what Buddy did today. I had a great experience dealing with the folks at A&M. If you are looking for a container this is the place to go. "
" Great local business with a knowledgeable staff. They were very helpful with picking out a container and delivering it to my house. "
" Great personal service. From phone call to delivery, everything was handled in a very professional manner. There were no surprises and no hard sales pitch – I appreciate that. I just needed one container but I was treated like I ordered a dozen. "
" Amazing staff and great people to do business with! A++ service! "
" Great people to deal with. Very good and very friendly. "
" I have known and been involved with A & M's owner, Lewis Nolan, for the best part of 30 years. You could not hope to find a more trustworthy, ethically stand-up guy in the industry. "
" Great doing business with A & M Container. The prices and container choices are great. We were able to choose a container and have it delivered within one week. The delivery driver was patient and very careful not to create any marks in the grass, since it had rained earlier in the week. All of the people we came in contact with were professional, helpful and knowledgeable. Definitely keeping them in my folder for repeat business. "
" I was very pleased with the help provided by Johanna setting up the purchase and delivery of the 40' container. I was also very pleased with the delivery driver ( Eddie) on how well he operated his equipment to offload the container right where I needed it. He did an awesome job using the trailer hydraulic system to position the container on the cross ties in perfect position. "
" Very professional business! We have bought 2 containers from A&M on separate occasions. Our sales rep, Johanna, could answer any question we had about sizes, condition, customization, delivery, you name it. They have a price sheet for their inventory and the cost of modifications that really takes the guesswork out of selecting a container and there are no hidden costs. The delivery driver, Eddie, was AMAZING — he very methodically maneuvered and manipulated the specialized delivery truck and trailer to "thread the needle" and put the container exactly where we wanted. He is no doubt one of the best truckers I have ever dealt with! In a nut shell-you will not be disappointed dealing with this company at any level!! "
Contact A&M Container To learn more about our services or to get a quote, please contact us at :
985-542-5617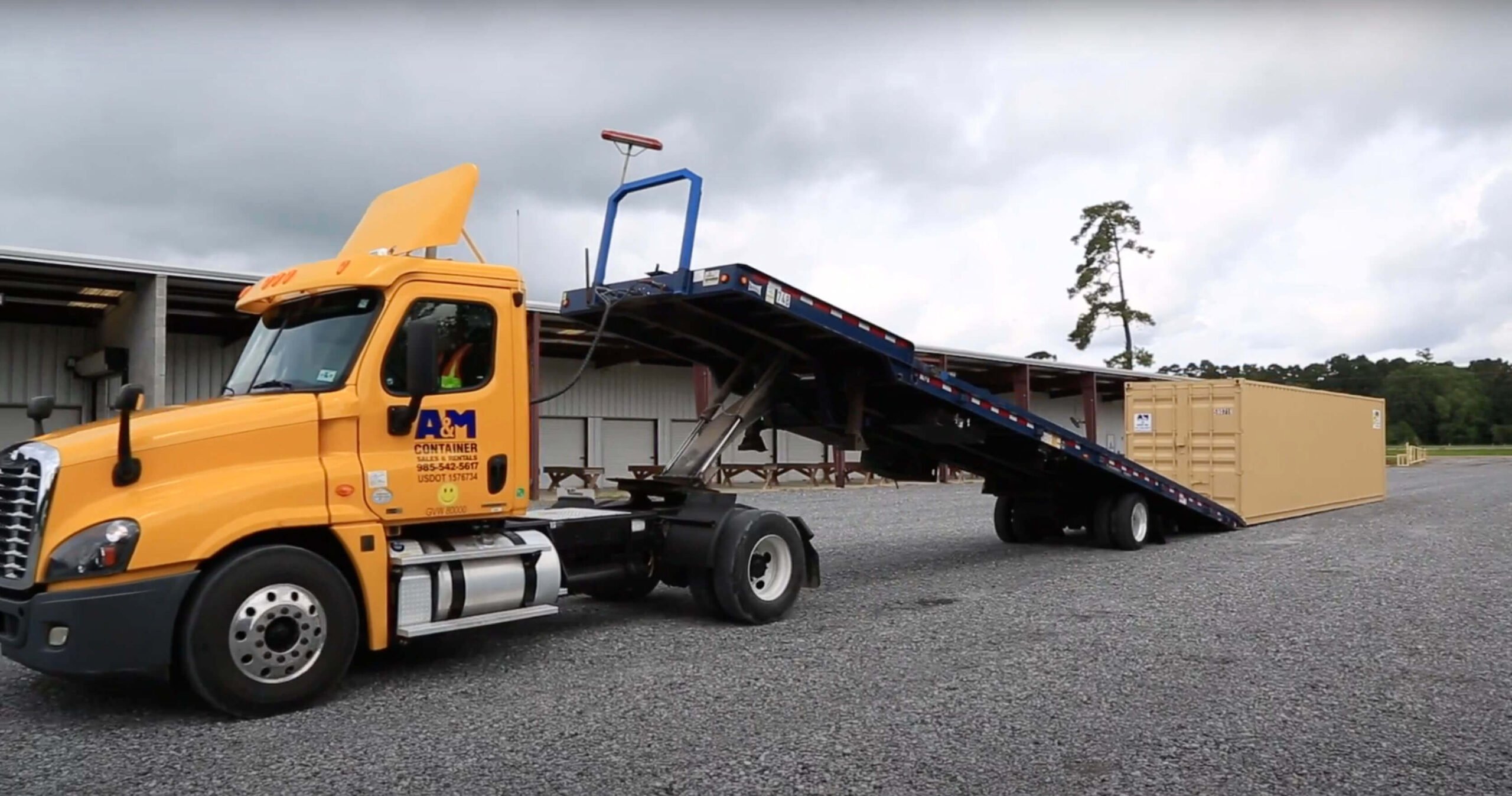 Prompt delivery and pick-up with our specialized tilt bed truck trailers. Trucks are big and heavy so learn more about delivery and pick-up here.
CONVENIENTLY LOCATED
Open Monday thru Friday, we invite you to visit our facility to ensure the container you select meets your requirements.

A&M Container
18056 S. I-12 Service Rd.
Ponchatoula, LA 70454
Physical Address:
18056 S. I-12 Servie Road
Ponchatoula, La 70454
Mailing Address:
P.O. Box 8622
Mandeville, La 70470
Monday-Friday 8:00 AM - 4:30 PM